Executive Officers and Board Members
Submitted by

admin

on Wed, 05/24/2017 - 03:02

Executive Officers:
President
Qingyi Wei, MD, PhD, Professor of Medicine, Duke University School of Medicine, Associate Director, Duke Cancer Institute, Duke University Medical Center
My research focuses on molecular epidemiology of cancer etiology, including genome-wide association studies and pathway-based analysis of susceptibility loci for cancer risk.
Past President
Shi-Yuan Cheng, PhD, Professor of Neurology (Neuro-oncology), Northwest University Feiberg School of Medicine
My research focuses on molecular mechanisms and signaling pathways of human cancer initiation, tumorigenesis, invasion, metastases and angiogenesis, and to develop novel approaches for anti-cancer therapies.
Past and Past President
Wei Zhang, PhD, Hanes and Willis Family Professor in Cancer, Director, Cancer Genomics and Precision Medicine, Wake Forest Baptist Comprehensive Cancer Center
My research focuses on cancer genomics by gene and protein expression profiling, identification and functional characterization of cancer genes, and gene regulatory network.
Managing Director
Li Yan, MD, PhD, VP, Head Unit Physician, Oncology, Glaxo Smith Kline
My career goal is to develop innovative and personalized medicines for cancer patients. Currently, I manage global clinical trials of novel cancer therapeutics and bridge clinicians and research scientists between US and China.
Secretarial General
Yunguang Tong, PhD, Assistant Professor, Cedars-Sinai Medical Center, David Geffen School of Medicine, UCLA
My research interests are in developing cancer prevention and treatment agents for colon, breast and pancreatic cancers. My current focus is to investigate PTTG1 (Pituitary Tumor Transforming Gene-1) functions in regulating cancer cell response to HDAC inhibitors, Aurora Kinase inhibitors and ROS-generating drugs. My long term goal is to develop PTTG1 into biomarker for treatment efficacy prediction.
Treasurer
Weimin Qi, MD, PhD, Director of Antibody Development, Biocare Medical, LLC.
My research interests are Antibody-based cancer early detection and cancer immunotherapy, especially breast cancer and prostate cancer.
China Affairs
Pascal Qian, PhD, Head of Solid Tumor Novartis Oncology, China
I launched several Top Global brands in China: Afinitor, Sutent, Vfend, Singlair etc. I have also lead several new products development initiation in China such as Crizotinib, Axitinib and Palbociclib.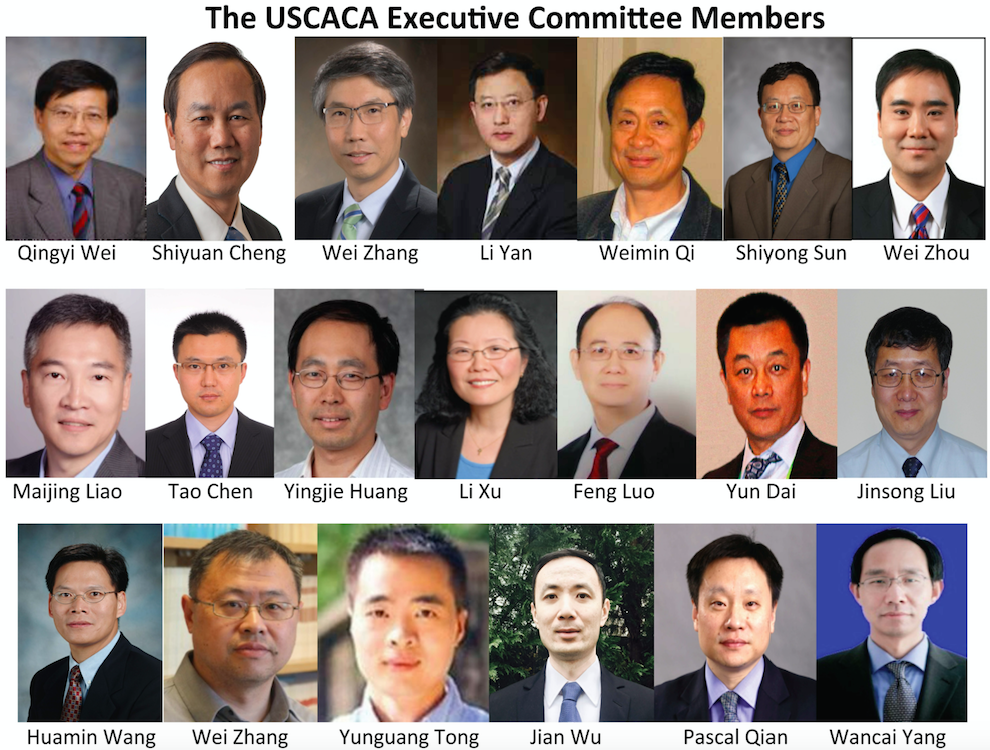 USCACA EC Members (in alphabetic order):
Shi-Yuan Cheng, PhD, Professor, Department of Neurology, Northwester University Feinberg SOM
Yun Dai, MD, PhD, Professor, Cancer Center, the First Hospital of Jilin University
Yingjie Huang, MD, Senior Medical Director, Global Clinical Development Oncology, Novartis
Mai-Jing Liao, PhD, MBA, VP, Business Development and Portfolio Management, Harbour BioMed
Jinsong Liu, MD, PhD, Professor, Department of Pathology, The University of Texas M. D. Anderson Cancer Center, Houston, TX
Feng (Roger) Luo, PhD, Head of Global Clinical Development, ACEA Bioscience
Jiang (Pascal) Qian, MD, Head of Solid Tumor Novartis Oncology, China
Weimin Qi, MD, PhD, Director of Antibody Development, Biocare Medical LLC
Shi-Yong Sun, PhD, Professor, Department of Hematology and Medical Oncology, Emory University SOM
Huamin Wang, MD, PhD, FCAP, Professor, Department of Pathology, The University of Texas MD Anderson Cancer Center, Houston, TX
Qingyi Wei, MD, PhD, Professor & Associate Director, Duke Cancer Institute, Duke University Medical Center, Duke University SOM
Jian (Jack) Wu, PhD, Commercial Partnerships Manager, ATCC
Yunguang Tong, PhD, President and CEO, Omigen, Inc.
Wei Zhang, PhD, Associate Professor, Department of Preventive Medicine, Northwestern University
Wei Zhang, PhD, Hanes and Willis Family Professor in Cancer, Director of Cancer Genomics and Precision Oncology, Wake Forest Baptist Comprehensive Cancer Center
Wei Zhou, MD, PhD, Executive Director, Center for Observational and Real-world Evidence, Merck
Li Xu, MD, MSD, MBA, present Venture Partner, Lilly Asia Ventures
Wancai Yang, MD, Dean, School of Basic Medicine, Jining Medical University and Dean, Institute of Precision Medicine, Jining Medical University
Li Yan, MD, PhD, VP, Head Unit Physician, Oncology, Glaxo Smith Kline